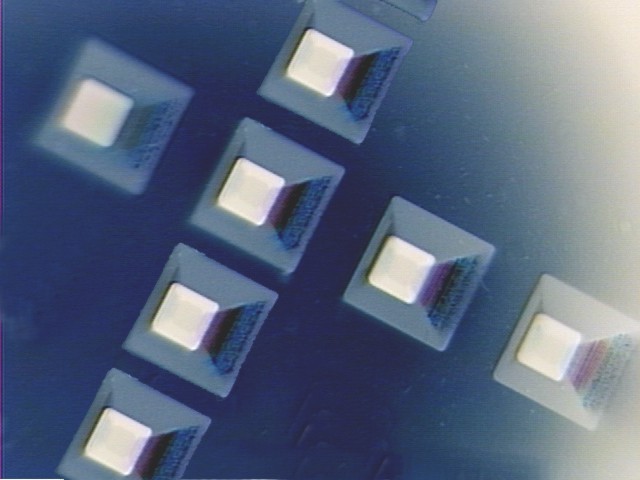 Arrays of tapered square blind holes fabricated in a 250-micron thick substrate
Forget about geometrical limitations associated with conventional machining processes; we can fabricate blind or through-holes that pretty much have any shape that you can imagine. We can fabricate highly-shaped aperture geometries that cannot be realized using conventional fabrication processes.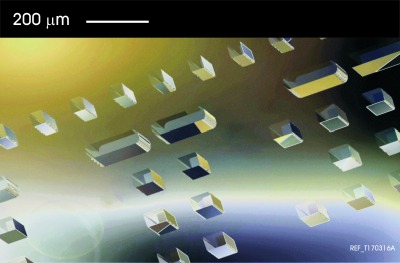 Array of through-holes fabricated in a 1-mm thick substrate
Opening Geometry
We can fabricate blind or through-holes that pretty much have any shape that you can imagine, including:
High-aspect ratio (80 to 1 or even greater in some cases)
Straight, tapered, or double-tapered cross-section
Cylindrical, or rectangular, or any arbitrary shape
With an internal waist, or not.
Vertical or slanted geometry
Waist diameter as small as 4 microns (depending on geometry and substrate thickness)
We can fabricate single hole or array of holes. When fabricating arrays, the various holes can all have the same size and shape, or not if you so desire.
Substrate Geometry
The substrate can be of any size up to 4" x 4"
The substrate boundary can be of any shape (rectangular, circular, truncated, etc.)
The substrate thickness should be in the 170 micron to 3 mm range
Chemical Compatibility, Optical Clarity, Mechanical Robustness
Many of our precision-machined custom-designed shaped holes are used in demanding applications. They are fully-compatible with all common chemicals (except HF and Hot KOH).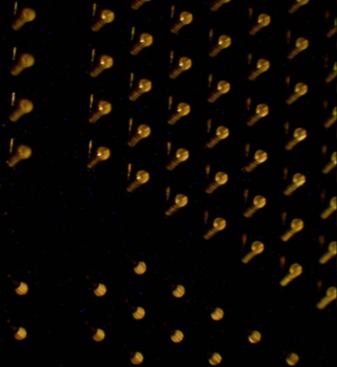 2D array of small (10-micron diameter) slanted through-holes fabricated in a 0.25-mm thick substrate
They can be used at temperatures up to 1000 ◦C and can be subjected to severe thermal shocks.
They are optically translucent (the substrate is transparent – the shaped hole walls are translucent).
Mechanically, they can be extremely robust (function of the substrate thickness). As such, apertures made in thick substrates can be used for applications with large differential pressure. For example, some of our glass-substrate apertures have been used to inject fuel in diesel engines.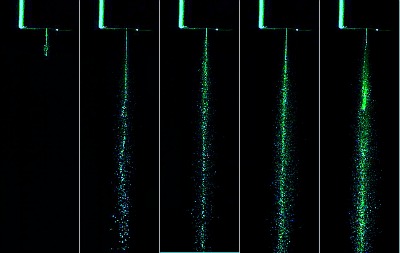 Sequence of photographs showing the injection of diesel fuel in a high-pressure combustion chamber. The injector plate (5-micron diameter through-hole) was fabricated by Translume