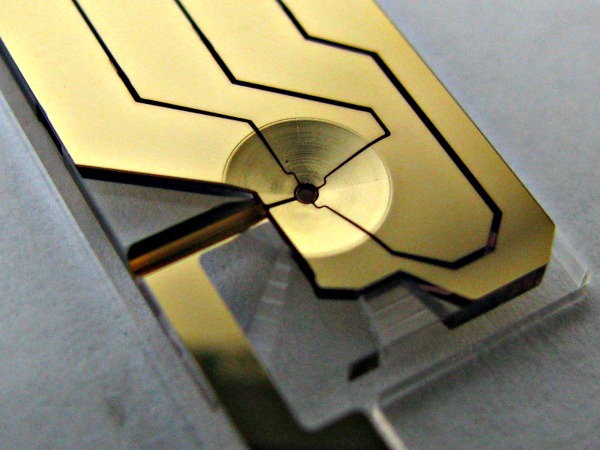 Trap platform with DC and RF electrodes, atom loading port, and multiple optical access ports (design: Prof. W. Capbell, UCLA) The design and microfabrication of a trap is divided between the trap platform (i.e. the structural body), and the electrodes generating the trapping field.
Trap Platform
We think of the basic structure as the "Trap Platform". Numerous functionalities can be inserted at the trap platform level. First and foremost the trap platform supports the trapping electrodes (more on this below). Often this is its only apparent function, but the trap platform can also provide much other essential functionality, such as off-chip electrical access, sample loading conduct, optical interfacing, mechanical interfacing, etc.
These various functionalities should be taken into consideration when designing/specifying a trap platform..
Trapping Electrodes
Electrodes are of course an essential element of all atom and ion traps. They are used to confine particles and to precisely control their position. Occasionally, they are used for gating, acting as voltage-controlled valves. Electrodes can also act as a sensing element, monitoring, for example, the presence and/or the motion of trapped particles. Frequently, they are used to cover dielectric surfaces and prevent unwanted charge build-up. There are several important considerations that need to be taken into consideration when designing/specifying electrodes. It should be recognized that a trap's ability to perform its trapping function is defined primarily by the electrode design, and ultimately, by the electrode fabrication processes (with their associated limitations). Material properties should of course also be taken into consideration.
You can learn more about the design and fabrication of trap platforms and electrode by following the links below.