The Campbell group is using ultra-cold atoms and molecules to learn about the physical processes that permeate the world. Specifically, they are focusing on the physics of quantum mechanical systems that involve many-body interactions, a field where our ability to theoretically describe and numerically simulate the microscopic features is severely limited. Their approach (shared by others, and known in the field as "quantum simulation") is to use well-controlled samples of atoms and molecules in order to build tiny, physical emulators of the physics that they are investigating.
Electrodes designationBy utilizing these atoms as microscopic computers, the Campbell group hopes to be able to pick up where supercomputer simulations become intractable, and to use their quantum simulators to help design and understand new materials, perform demanding computations, and learn about the physical universe.
The Paul trap, used in this experiment, was designed by the Campbell group and their collaborators at Georgetown University [1]. It features an azimuthally symmetric trapping potential that has significantly stronger axial confinement than radial confinement, and it is referred to by its designers as an "oblate Paul trap," since the resulting effective potential resembles an oblate ellipsoid. This oblate Paul trap has DC "end cap" electrodes above and below a central radio-frequency (RF) ring.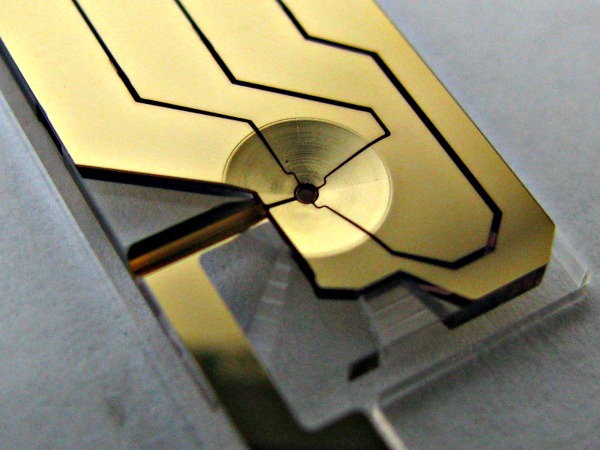 The oblate Paul trap shown after coating. The ion loading port is at 5 o'clock and the RF access port at 8 o'clock.
The UCLA oblate Paul trap: Eight subsurface ports are machined inside the trap platform substrate (shown here before electrode coating). The RF access port is at 6 o'clock, and the ion loading port at 3 o'clock.The trap was fabricated from a monolithic fused silica substrate using Translume's femtoEtch process. Numerous subsurface ports, placed in the substrate main plane, provide easy optical access to the ions. In addition, one of these ports is used as an RF feedthrough to the central ring electrode, and another port is used to load (174Yb) atoms.
This work was supported by the AFOSR STTR Program.
References
"Creation of two-dimensional Coulomb crystals of ions in oblate Paul traps for quantum simulations" Bryce Yoshimura, Marybeth Stork, Danilo Dadic, Wesley C. Campbell and James K. Freericks. EPJ Quantum Technology 2015, 2:2 doi:10.1140/epjqt14